"a-MAY-zing Makeover"!
For the month of May 2017, Dr. Mikulics is offering the a-MAY-zing Makeover which includes:
 Pelleve wrinkle reduction, a collagen boost for crow's feet and bothersome wrinkles.
SculpSure laser based fat removal in 25 minutes
MonaLisa Touch  a minimally invasive laser procedure to help women relieve the uncomfortable effects of hormonal change.
To learn more
call the office at 805-434-2305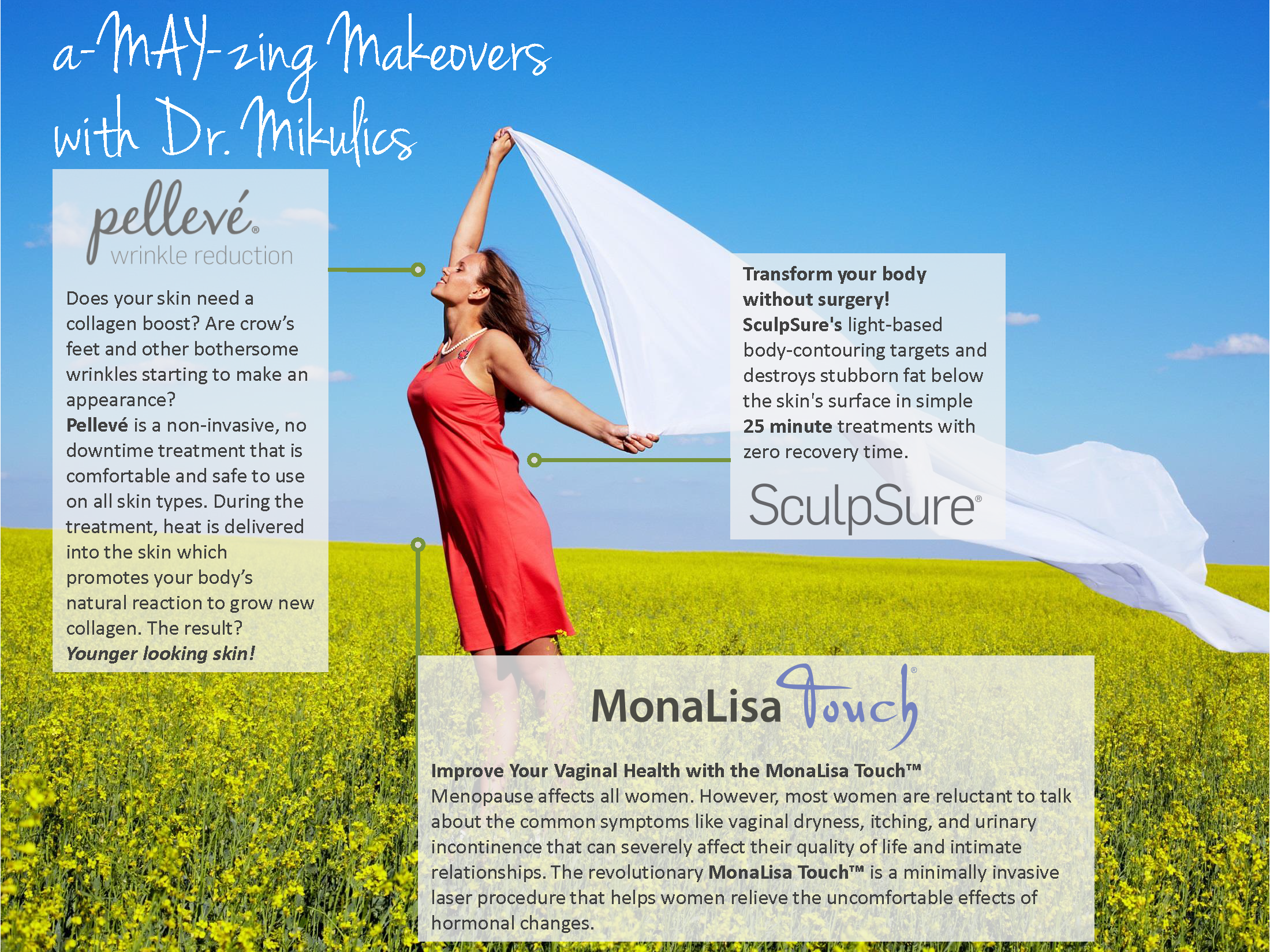 MonaLisa Touch to improve your vaginal health
We Appreciate You!
In order to maintain balance and continue providing our highest level of care, Dr. Mikulics' practice is currently closed to new insurance based patients.  Open appointments are still available for women seeking MonaLisa Touch and Cosmetic Medicine treatments.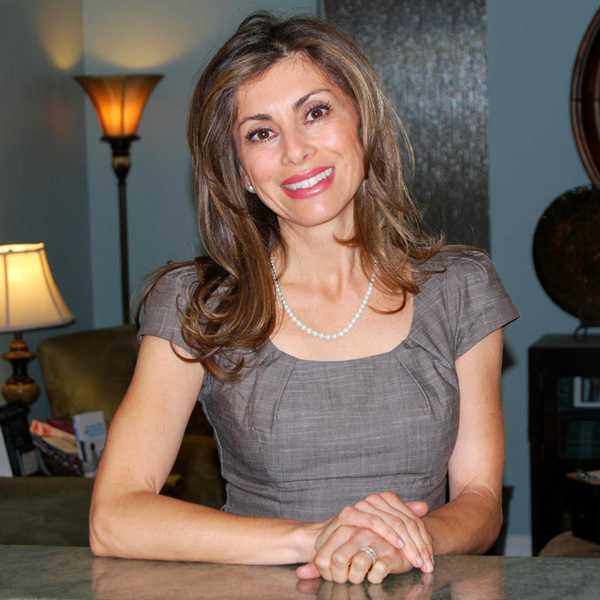 Dr. Mikulics is a UCLA-trained, board certified OB/GYN serving Templeton, Paso Robles, Atascadero and the greater San Luis Obispo county. Since opening in 2007.  Dr. Mikulics' practice has grown largely through patient and physician referrals. Dr. Mikulics is known for her caring and knowledgable approach to her patient's needs.!
Welcome to Dr. Mikulics Women's Health and Beauty. This practice has been uniquely designed to provide medical services for women of all ages who are not needing pregnancy care. Dr. Mikulics is a board certified OB-GYN and has been in private practice since 2001. In 2007 she opened her current practice. She treats a wide array of common female  problems.  She also believes in empowering her patients through education and is a gifted listener. Putting off that pap? Come on in for your well women exam.  We will also coordinate any other screening tests and labs that are relevant for you. Feeling that your hormones are changing but not sure what you can safely do about it?  Dr. Mikulics makes it a priority to stay current on the safest treatments and lifestyle solutions to the symptoms of perimenopause and menopause Additionally, she also offers safe and highly effective beauty treatments. Since 2008 Dr. Mikulics has been treating patients with Botox and other similar teatments. They relax wrinkles and awaken your youthful glow. We see fabulous results with minimal down time!
Menopause Treatments
Dr. Mikulics is a specialist in treating patients experiencing symptoms of menopause.  Menopause is experienced by each woman differently. The result of Dr. Mikulics' years of training and experience treating women has resulted in the foundation of her practice.
Women experience one or sometimes multiple menopause related symptoms.  Dr. Mikulics' specialized treatment techniques for menopause symptoms are designed to help you feel better (and maybe get some sleep!)
Menopause is defined as happening 12 months after a woman's last menstrual cycle and although it marks the end of fertility it doesn't have to mean the end of a woman's 'romantic life"
Night Sweats are often a symptom of menopause, they can soak your sheets and jammies but aside from being annoying, they don't really signal a medical problem.
Hot Flashes, commonly due to menopause they often leave the face and chest flushed.  Hot flashes are the most common symptom of menopause.
Perimenopause is literally "around menopause" it's the time when a woman begins to transition to menopause.
Specific symptoms that can occur before, during or after menopause are now treatable with new technology. Dr. Mikulics is one of the first physicians in California to employ laser technology to promote vaginal rejuvenation.  Partnering with medical laser company, Cynosure, Dr. Mikulics offers the MonaLisa Touch medical to help restore vaginal health to her patients.
Painful Sex sometimes caused by the hormonal imbalance that occurs with aging and menopause.  A new laser technique, the MonaLisa Touch, has been proven to restore a youthful efflorescence to many women.
Breast Cancer treatments can trigger a condition known as premature menopause.  Premature menopause may also cause dryness and painful sex.  The MonaLisa Touch offered by Dr. Mikulics may be a solution.
Urinary Incontinence; pelvic muscles may not be as taut as they used to be, pregnancy, childbirth and fluctuations in hormone levels may also lead to urinary incontinence.
Urinary Tract Infection is typically experienced by most women at least once in their lives.  Bacterial, hormonal or other causes may trigger a UTI.  The MonaLisa Touch may work to reduce the occurrences of UTI.
MonaLisa Touch
Dr. Mikulics is one of the first physicians in California to utilize a sophisticated laser therapy to treat vaginal atrophy as well as other painful and bothersome symptoms.  The MonaLisa Touch is a C02 laser designed and proven to reduce vaginal laxity and atrophy in women.  A painless technique, that helps restore a youthful  elasticity and feeling to the vagina.
Contact Dr. Mikulics at 805-434-9441 for an in office consultation to see if the MonaLisa Touch may be right for you.
Review Dr. Mikulics online
Testimonials for Dr. Stefanie Mikulics
Overall Rating /
14

Total Testimonials
Stefanie Mikulics, MD
Pamela B

- November 30, 2015
Dr. Mikulics has been my Gynecologist for some time. I am extremely confident in her knowledge as a physician and she has always responded to my questions with informed, current answers. Her office & staff create a warm, safe, & comfortable environment. I am now so thankful that she has introduced MonaLisa Touch and her caring in recognizing the need for many of her patients. The results for me have been astonishing correcting problems that I have dealt with for 10 years. Woo Hoo Dr. Mikulics!!
Debra H

- November 12, 2015
Kathleen M

- November 1, 2015
The best doctors office ever!!! Thank you. Kathleen Munn
Darla H

- October 31, 2015
The doctor was very nice and she really took the time to explain everything to you. The staff was very friendly too!
SUE W

- October 25, 2015
I have always felt that Dr. Mikulics listens to my concerns with full attention. Her responses are thoughtful, honest, and knowledgeable. We always make decisions about my healthcare together!
Powered by GetFiveStars
At Dr. Mikulics Women's Health and Beauty we strive to offer excellent health care to women and empower them with knowledge about their bodies through education.  We support each patient in achieving balance and in living her personal best, for herself and her loved ones.